Lee Kenneth Brady (September 1, 1926–January 28, 1996) By Lenee Gordon Early Life
On September 1, 1926 in Troy, North Carolina, Melvin and Berrie Brady welcomed their firstborn son Lee Kenneth, as seen here.1 When Brady was only three years old, his father worked as a loom fixer while his mother was a housewife. His father continued this occupation throughout the 1930s, as shown in the 1940 Census. Brady, now a teenager, attended school.2 Being the son of a textile mill worker, the Moore family certainly faced various challenges.
In the early twentieth century, textile mill employees worked long hours in unpleasant conditions and received low wages.3 Despite the Great Depression, Melvin maintained steady employment that helped keep his family financially afloat. While historically textile mills utilized child labor, the federal government stepped in during the 1930s to stop the practice. In 1938, with the passage of the Fair Labor Standards Act of 1938, the federal government outlawed child labor nationwide, sparing many children like Brady from these dangerous textile mill conditions and helping maintain the job for adults.4
Military Service: Brady in the US Navy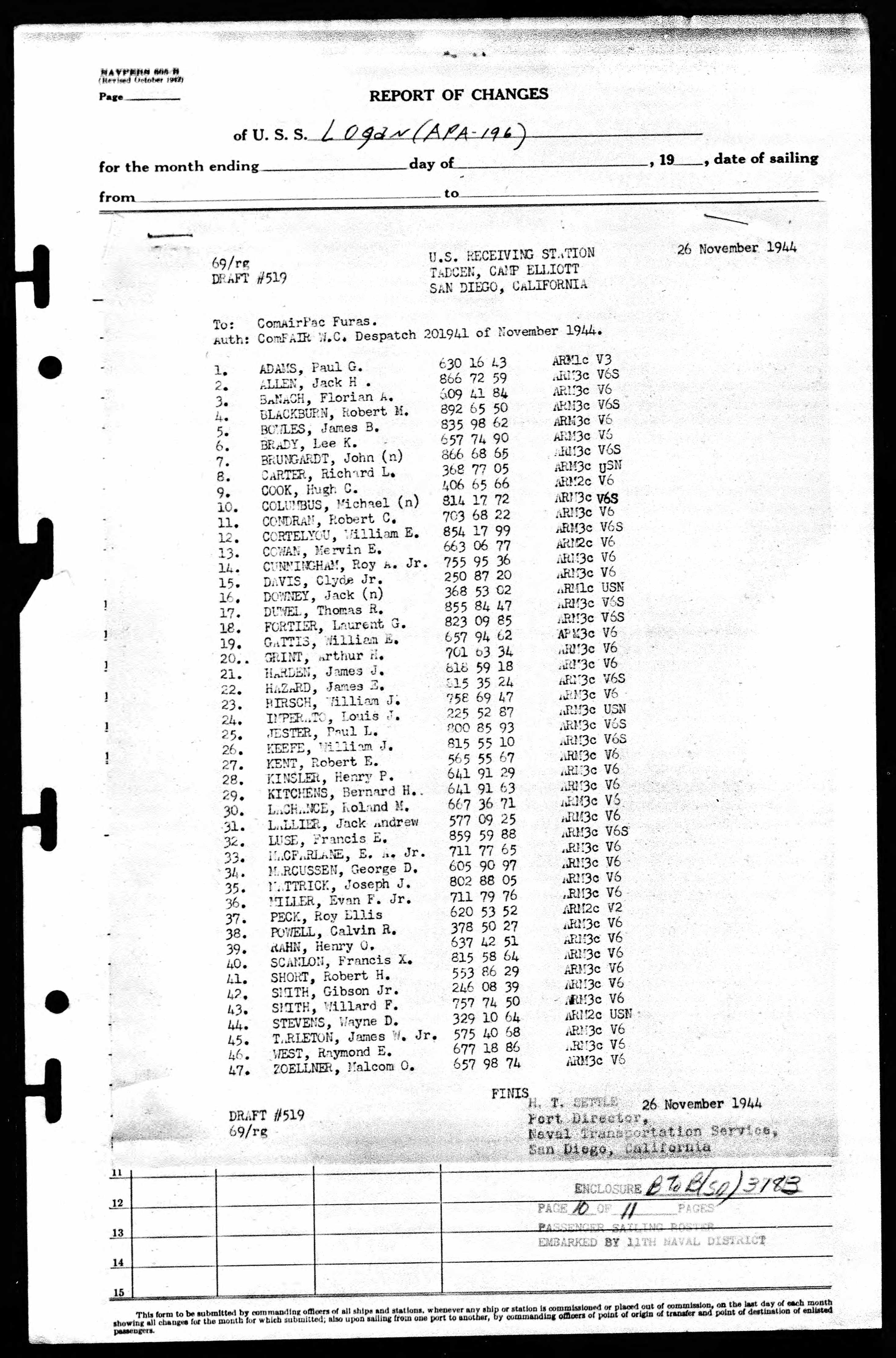 After the attack on Pearl Harbor on December 7, 1941, the United States declared war on Japan, bringing the country into World War II. Thousands of young American men like Brady volunteered to defeat the Japanese and Nazi Germany. Brady likely trained at the Great Lakes Naval Training Center in Chicago, Illinois, before his service in the Pacific Theater. At the time of his registration for the draft, Brady's age of seventeen made him ineligible. However, his registration card lists his year of birth in 1925, thus making him eighteen and eligible to serve in the Navy.5 Whether his purpose involved patriotism towards his country or supporting his family, Brady demonstrated his willingness to serve by changing his birth year. A November 1944 muster roll, seen here, lists Brady with his unit at the US Naval Training and Distribution Center (TADCEN) at Camp Elliot in San Diego, California. Brady held the rank of Aviation Radioman Third Class (ARM3C).6
The primary responsibility of aviation radiomen's involved the operation and management of equipment on naval ships and aircraft. This involved communication with other military departments and government agencies, as well as ensuring the safety of those at sea and in the air.7 The training and testing involved in becoming a radioman shows Brady's fortitude and skill set. In addition to Navy training courses, Brady also took courses such as various advanced math courses and the Fundamentals of Electricity, Radio, Electronics. Brady then served on the USS Logan (APA-196), an attack transport ship commissioned on October 1944 and commanded by Commander Joseph H. Foley. The Logan deployed first to Pearl Harbor and then Saipan for training before preparing for the assault on Iwo Jima.8
The Logan played an important role in the iconic Battle of Iwo Jima in early 1945, during which United States Marine and Naval forces helped secure a victory against the Japanese. From February 19 to 28, the Logan medical department received casualties, unloaded combat supplies, and transported numerous casualties to safety in Saipan and Guam. The Logan then moved to Okinawa on April 1, 1945 to divert the Japanese away from the real attack by assaulting the coast that was not the target of the main attack.9 While Brady's responsibilities most likely kept him onboard the Logan, his main responsibility controlling the equipment on the ship helped make the war in the Pacific a success for the United States. After the Japanese surrendered in September of 1945, the Logan participated in Operation Magic Carpet, an operation to transport thousands of victorious servicemen back home to the United States. Due to her service in World War II on the Islands of Iwo Jima and Okinawa, and later Korea, the Logan received two battle stars, one for each war.10 Eventually, Brady returned to the United States as a combat veteran.
Postwar Life
Once back stateside, the Navy honorably discharged Brady on January 4, 1946. Following his discharge, he returned to North Carolina and moved to Rockingham in Richmond County.11 Eventually, he moved to Coral Springs, Florida. He remained single for the rest of his life, without a wife or children. He passed away on January 28, 1996 at his residence in Coral Springs.12 He is memorialized at the Florida National Cemetery. Brady's legacy shows that, regardless of a service member's role, everyone plays a role in the success of America's military. Brady's willingness to serve despite his young age provides a glimpse into the type of man willing to sacrifice for his country.
Endnotes
1 "North Carolina Birth Index, 1800-2000," database, FamilySearch.org, (https://FamilySearch.org (accessed June 7, 2016), entry for Lee Kenneth Brady, 1926.
2 "United States Census, 1930," database with images, FamilySearch.org, (https://FamilySearch.org (accessed June 7, 2017), Lee K Brady in household of Melvin Brady, Troy, Montgomery, North Carolina, United States; citing enumeration district (ED) ED 13, sheet 3B, line 82, family 49; "United States Census, 1940," database with images, FamilySearch.org, (https://FamilySearch.org (accessed June 7, 2017), entry for Melvin Brady, Wolf Pit Township, Richmond, North Carolina, United States; citing enumeration district (ED) 77-27, sheet 2A, line 28, family 29.
3 Cynthia D. Anderson, The Social Consequences of Economic Restructuring in the Textile Industry: Change in a Southern Mill Village, (New York: Taylor & Francis, 2000), 1.
4 Jonathan Grossman, "Fair Labor Standards Act of 1938: Maximum Struggle for a Minimum Wage," United States Department of Labor, accessed June 13, 2017, https://www.dol.gov/oasam/programs/history/flsa1938.html.
5 "US WWII Draft Cards Young Men, 1940-1947," database, Ancestry.com, http://ancestry.com (accessed 8 June 2017), entry for Lee Kenneth Brady.
6 "US World War II Navy Muster Rolls, 1938-1949," database, Ancestry.com, http://ancestry.com (accessed 8 June 2017), entry for Lee Brady.
7 "Radioman 3 & 2" (Bureau of Naval Personnel, 1964), 1, 12, http://www.navy-radio.com/manuals/rm32-10228D-1964.pdf.
8 Navy Department, Dictionary of American Naval Fighting Ships, vol. IV (Washington, D.C.: United States Government Printing Office, 1969), 133–34.
9 Ibid., IV:134.
10 Ibid.
11 "US WWII Draft Cards Young Men, 1940-1947," Ancestry.com.
12 "BRWD N," Miami Herald (Miami, FL), January 30, NewsBank.Inc
13 National Cemetery Administration, "Lee Kenneth Brady," US Department of Veterans Affairs, accessed September 18, 2018, https://gravelocator.cem.va.gov/NGLMap?ID=5995513
© 2017, University of Central Florida